We determine the UV pro­tec­tion factor of clothing and shading textiles.
What UV protection do your textiles offer?
Standardised measurement procedures and expert testing are required to determine the UV protection factor for textile materials.
The UV STANDARD 801 test procedure allows you to test all types of clothing and shading textiles that protect human skin against UV radiation in any form.
Tests can take place with or without certification, as requested by the customer.
Your benefit as a customer:
consumer security through determination of the UPF under conditions of use
material optimisation during development
securing the product on the market
clear product information
Testing in accordance with the UV STANDARD 801 is par­tic­u­lar­ly suitable for:
swimwear and beachwear, especially for babies and children
sports textiles and summertime leisurewear
workwear/industrial garments for occupations exposed to UV radiation
shading textiles
(e.g. sunshades, blinds, beach shelters)
other shading materials
(e.g. protective film for windows)
More information about the test method
To establish the protective properties of textiles or other flat materials, the test determines how much UV radiation passes through the material and how much is deflected.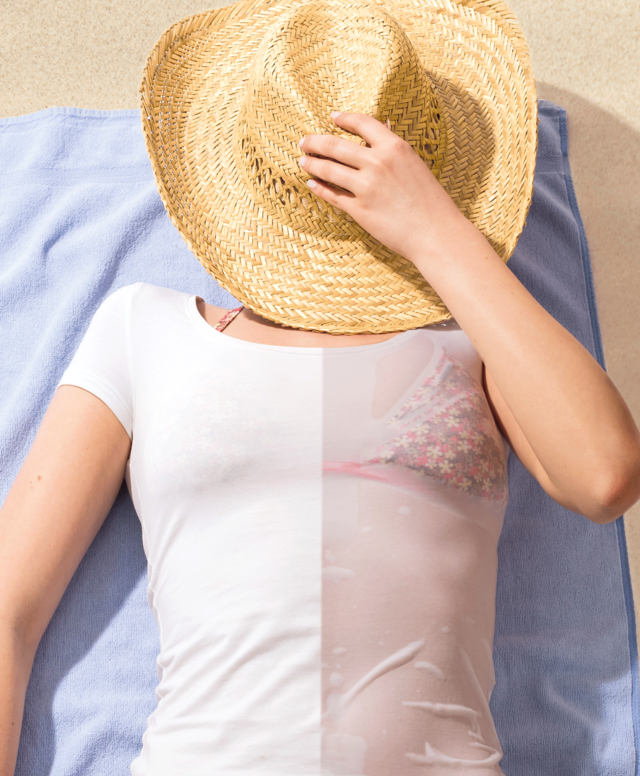 Testing in accordance with UV STANDARD 801:
differentiates between clothing and shading textiles, taking into account the form of use
takes into account realistic conditions for wear and use, as well as selected, typical ageing effects
assumes a solar spectrum from Melbourne, Australia, on January 1st (peak of the Australian summer)
Other standards for determination of the UV protection, for example, AS/NZS 4399 or EN 13758-1 are limited to clothing textiles in a new condition without use or ageing effects.
This is where the UV STANDARD 801 goes further: it also tests the sun protective textiles under realistic conditions of use. It has also been possible to establish a separate testing programme for shading textiles within the UV STANDARD 801.
The UV STANDARD 801 thus offers reliable protection everyday.
What is the test process?
Submission of the test application including test samples to one of the test institutes of the International Testing Association for Applied UV Protection.
Requirements for test samples:
at least 1 m² per material quality and colour
Test:
The materials submitted for testing are assigned to an article group in accordance with the specifications. Depending on the assignment, the test templates are then subjected to various testing programmes.
Test report:
After the test, the applicant receives a test report which gives the UV protection factors for all test steps.
In addition to the test, a UV STANDARD 801 certificate can also be applied for. A valid certificate is a prerequisite for the recognition and advertising of the material.
Note:
No advertising may use the results of the UV STANDARD 801 without certification and no reference may be made to it. Use of the report for advertising purposes or publication of a free interpretation of the results is thus not permitted.